Educator, Community and Delivery Awards

EDUCATOR OF THE YEAR –  Mark Hurdle, Christchurch
Judges Comments: Mark not only engages his students within their sessions and development into personal trainers but also has an understanding of the bigger picture supporting standards and growth across the industry.

INNOVATION AWARD – CIRCUBAND  – 
Sponsored by: Active Management  
Judges Comments: Taking a piece of common gear and taking it to the next level makes circuband innovative & provides a new way of keeping track of goals and exercise intensity. Judges also commented on the reach this product is gaining, putting NZ ingenuity on the world stage.

PROGRAMME EXCELLENCE AWARD – Farm Bootcamp.  
Sponsored by PTLab
Judges Comments: A unique backdrop sets the stage, but it is the tailoring of her service to the community, her strong set up and attention to detail  that makes Farm Bootcamp Award Winning.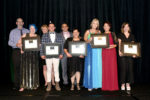 COMMUNITY CONTRIBUTION AWARD
FXU VIBE for Chronic Illness, Wellington.
Providing life changing and enhancing exercise solutions in a friendly and professional environment
Instinctive Fitness Community Work, Rotorua
Meeting the needs of their community with a local flavour and overreaching culture of family and connectivity
Seeding Yoga in Schools, Wellington
Yoga in schools addresses the growing concerns around children's physical and mental well-being. identifying hard to reach areas with low physical activity.
Soaring Words with Zumba at Wilson Home, Auckland
Zumba classes adapted for physically disabled children and those with brain injuries, and their families, showing that we can all come together within an exercise setting.
Your Way Wellbeing / Wellbeing – Your Way, Hamilton
Reaching out into an Under Served area, providing an agile yet well structured level of care with empathy and dignity.
---
Special Awards
NZ REGISTER OF EXERCISE PROFESSIONALS AWARD – Bernadette Smith
The REPs award is presented to a role model that reflects the ethics and values of exercise professionals/facilities in New Zealand
From a nationwide tour where she took the joys of hula hooping across New Zealand, through to her work with preschool curriculum, and her New Zealand record attempts, this years REPs award recipient has built her own niche market and flown the flag for fun and movement through physical activity.
The great news is that last month Bernadette broke the New Zealand hula hooping record with 199 hoopers gathered together for 2 minutes, while at the same time raising funds for the NZ Heart Foundation.
Bernadette has motivated a wide range of New Zealanders to get active through hula hooping from workplace physical activity programmes, working with seniors and children, and encouraging people to get active through an activity which is something that has been enjoyed by generations.
Her work in early education, with a curriculum based programme that uses hooping to meet the healthy heart award criteria is a success story in pre-schools, and is being developed further for 2019.
A heart warming card from primary school hula hoopers says it all about the authentic connections created, and truly reflects Bernadette's underlying philosophy –  "the power of giving, and what you get back".
EXERCISE ASSOCIATION OF NEW ZEALAND AWARD – Jo Clark
This award is open to any individual or organisation, recognizing their outstanding contribution to the industry.  This award is chosen by the Exercise New Zealand board.
Involved in our industry for over 20 years and has a passion for health & fitness. Over 15 years management experience in both local council and commercial recreation centres in the UK, as well as senior positions in New Zealand including GM of a large community gym brand in Auckland.   Currently involved with Athletics NZ, the recipient continued to support our industry by being the Chair of the NZ register of exercise professionals for the last 10 years, and oversaw the growth of REPs from 1400 to 3,000 individuals during that time.
SKILLS ACTIVE – MANUKURA AWARD – Gillian Christian
Manukura is simply translated as a leader or person held in high esteem. A significant aspect, that can't be simply translated is that to be pronounced a 'manukura' requires the support of people around you, and the people you work with. It is a position of mana and a reflection of your work and how you are regarded by those around you.
Gillian is a prolific assessor of exercise industry trainees for Skills Active Aotearoa. She works hard to support up-and-coming trainees, she is also a mentor and an active exercise professional herself, and she promotes industry training everywhere she goes as a means of stepping up and strengthening the exercise industry workforce.
SKILLS ACTIVE – TE ITI KAHURANGI AWARD –  The Lab Training Centre
Te iti kahurangi is the pursuit of excellence, and is taken from the very famous whakatauki. 'proverb' – (Whāia te iti kahurangi, ki te tūohu koe, me he maunga teitei) which is… pursue excellence – should you stumble – let it be to a lofty mountain.
The Lab has become a central part of the fabric of its community in Napier. It takes a big picture view of fitness, with a wide range of wellbeing programmes such as stop smoking services, goal setting seminars, nutrition planning and pastoral care for younger members.
---
Individual Awards
GROUP EXERCISE – PRE-CHOREOGRAPHED INSTRUCTOR OF THE YEAR – Kelly Hadwin
Judges Comments:  The JUDGES commented on Kelly's impressive communication skills , movement execution and superb motivation.
GROUP EXERCISE – OWN CHOREOGRAPHY INSTRUCTOR OF THE YEAR –  Roxanne Flawn
Judges Comments:  It takes experience and skill to create and deliver your own choreography.  Judges commented on the high quality of skill shown with cueing and communication.
MIND BODY INSTRUCTOR OF THE YEAR – Jase Te Patu
Judges Comments:  Jase embodies Maori principles and values into his yoga teaching, offering his students a rich philosophical tapestry to practice by. He is a leader in his ability to teach from the heart and guide a wide range of people deeply into mind body connection.
SMALL GROUP TRAINER OF THE YEAR – Reece McCaffrey
Judges Comments:  Reece's strength is in communication, with a superb verbal toolbox. He individualises the session while maintaining a great experience for the group.
STUDENT OF THE YEAR – Olivia Bradley
Judges Comments:  Olivia shows a  curiosity and understanding of special populations. She has a passion for learning and understands the barriers caused by time and other commitments. She has completed her course while working full time.
OUTSTANDING SUPPORT AWARD – Kate Maxwell
Judges Comments:  Kate is passionate about supporting student wellbeing and is providing an awesome gateway service between the university as a whole and the recreation centre. She comprehends the 'bigger picture' of health & wellbeing versus fitness and is focused on the human connection that so many young people are lacking and craving. Her involvement with external organisations and gaining education in non-fitness is fabulous to see.
PEOPLES CHOICE AWARD – Julie Bish
This award is chosen by popular vote.
UP AND COMING PERSONAL TRAINER OF THE YEAR – Kelly MacDonald
Judges Comments: Very personable, showing a mature empathetic view with her clients.  Showed a commitment to upskilling and gaining knowledge.
PERSONAL TRAINER OF THE YEAR – Ngarama Milner-Olsen
Judges Comments:  Incredible professionalism, Outstanding communication and rapport with clients, Goal focused, Confident, Ngarama has a strength and personal power that empowers her clients. She is an inspiration to us all.
---
FACILITY AWARDS
STUDIO OF THE YEAR –  Studio Glow
Judges Comments:   With a strong personal values base and an attention to detail, in the environment and with client care Studio Glow has created a space that is uniquely designed to reflect the needs of it's market.
STUDIO OF THE YEAR –  Highly Commended  – Adapted Yoga and Pilates
Judges Comments:   The judges commented on the innovative way this business offers services not just at the home studio but across satellite classes. Also noted was the above and beyond care shown to their members.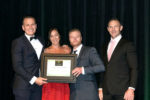 FRANCHISE FACILITY OF THE YEAR – Anytime Fitness Cashmere
Judges Comments: Judges commented on good leadership and the little touches that made this facility stand out.  A welcoming facility with a comprehensive range of services.
INDEPENDENT FACILITY OF THE YEAR – Ironhood Fitness
Judges Comments: A brand that claims excellence and delivers through it's well-appointed facilities and high standards.
CHAIN / GROUP FACILITY OF THE YEAR – Les Mills New Lynn 
Judges Comments:   This club has gone from strength to strength, maintaining their high standards of care and facility while adapting to meet the changing trends in our industry.   All mystery shoppers commented on this clubs exceptional attention to detail and customer service was clearly a focus of this club. This was reinforced by high levels of customer satisfaction via the awards NPS score measures.
CHAIN / GROUP FACILITY OF THE YEAR –Highly Commended – Cityfitness Willis Street
Judges Comments:  This facility has a history of growth, movements and improvements and now stands as a compact (although still large by industry standards) facility that is well presented with and a consistent welcome smile on entry.
SUPREME CLUB OF THE YEAR –  Les Mills New Lynn
Judges Comments: Judges would like to congratulate this facility for it's ongoing commitment to member care and outstanding facility leadership..